Karley Parovsky, Violin & Wellness
Guest Faculty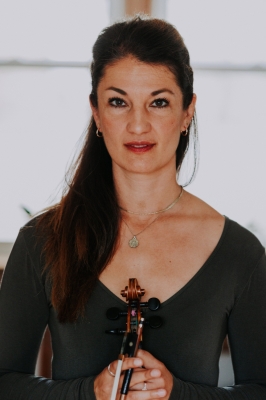 -
Karley Parovsky is a musician, a lifelong student of the violin, and a 'curious teacher'. She explores the challenges of learning a musical instrument, enjoys the opportunities presented through her teaching, and shares the successes found in playing outside the lines. Karley has travelled the world learning from masters of the instrument in genres ranging from fiddle, to funk, to bluegrass, and beyond. In her identity as curious teacher Karley delivered a TEDx talk at the Regina Public Library entitled Music Education Is the Tool for Self-Discovery. View her talk here.
Karley has performed with the Regina Symphony Orchestra since her teens and has enjoyed opportunities to make music with groups such as Juno-award winners The Dead South, the Andino Suns, and Wolf Willow, to name a few. In 2020 Karley wrote and arranged music for an installation in Trespassers Waltz - a series of site-specific vignettes performed in the prairie landscape - presented by Curtain Razors Theater.
She also recently released her first EP titled Me, Myself & I[solation].
A particular interest for Karley is the physical and emotional well being of musicians. Several years ago, she traveled to Costa Rica to receive her 200hr Yoga teacher training and furthered her training at Yoga Haven in Regina, Saskatchewan. Focussing on yoga for musicians, Karley uses her training in her own studio and presents workshops for programs such as Regina Summer Strings.
---